Thursday class
8:00PM-9:15PM at Sino Chu Bar. No class during 2-week workshop.
50 RMB for beijingtango members / 70 RMB for non-members
Teacher : Michael
NO class during July 2010. Class will resume in August.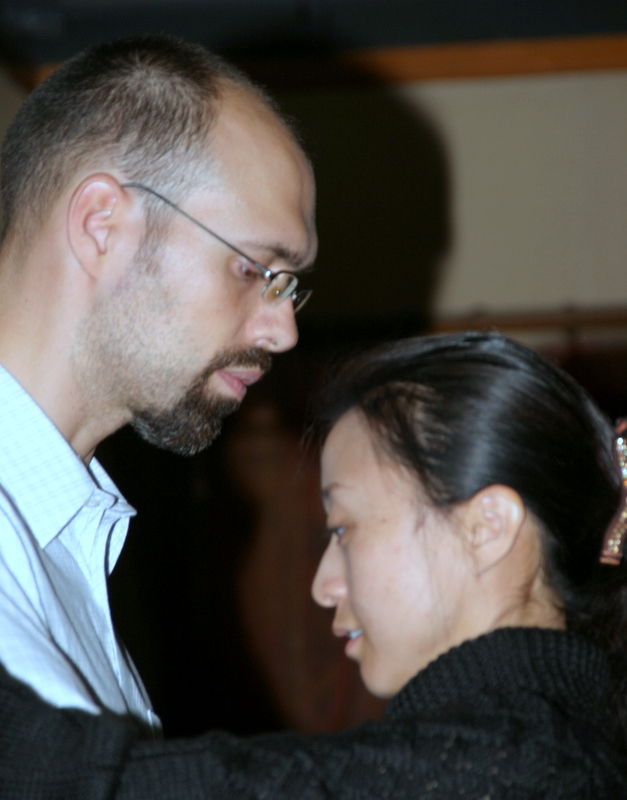 Michael E. Schroeder is one of the veterans of the Beijing tango scene. He has successfully taught people who then caught fire and now teach on their own or even run their own tango clubs.
He is dedicated to tango at its core as a way of expression and finding inner peace. Michael strives for the secrets beyond the steps.
When he dances he dances not for himself but for his dance partner and not only with his dance partner but also and almost equally important with the music, the floor and the couples around him. He tries to achieve harmony with all elements involved.

He studied Tango since 2003 with Juan D. Lange who brought tango to Berlin and started a movement which now made Berlin the secret capital of tango outside Argentina.

He learned accuracy from diligent teachers like Michael Ruehl, who is running one of the most established Milongas in Berlin as well as Juan D. Lange and Enrika. He completed his Tango education with Argentinean Masters like Pablo Veron, who visited Beijing in 2006; Ezequiel Paludi and Geraldine Rojas; Ector Gutierrez; Pablo Giorgini and Noelia Coletti; Ernesto Borgonovo and Rika Fukuda; Giggio Giovanni and Marina Marques, who are not only experts in classic tango but also, as part of the Center of Experimental Tango Art, among other innovating dancers of their generation created one of the first electronic tango shows "Resureccion Urbana."

Michael's classes do not focus on steps only. He believes it is not the steps that make the runner fast or the high jumper jump high. Equally in tango it is not the steps that make the dance look beautiful. It is the way to put them and the way to use the energy to get the result you desire. In Tango the result is a confident step a clear and stable lead and beautiful elegance in any combination of steps you want to add to your repertoire.

The Students find it easy to follow instructions from his unorthodox training methods and his friendly and humorous way of teaching the things dancers need to accomplish to make their dance not only beautiful to watch but also a pleasure for every dance partner to enjoy.
Thus his classes are equally favored by both beginners and intermediate students.
His main focuses are accuracy of the lead and following the lead accurately, musicality and expression in the dance and a solid body posture as basis for all steps and movements in tango.
To reach Michael, call him at 136 8139 5779.