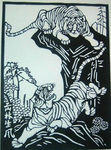 The Beijing.Tango team wishes everyone of you a properous New Year. Let the tiger energy spice up our milongas !
Here is the schedule during Spring Festival vacation time:
NO TT CLASS and NO MILONGA onSunday February 14th. Resume as usual on Sunday 21th.
NO MICHAEL CLASS on Thursday February 18th.
Beijing.tango in 2010
We take this opportunity to let you know what we have in mind for the coming new year. We still plan to organize 4 workshops. Please find below the tentative schedule. More soon on the 2 Spring/Summer workshops already confirmed.
March 19t - April 6th 2010: Andrès y Isabel from Buenos Aires (BA)
June 21st -July 5th 2010: Leonel and Amalia from BA & Tokyo, Japan
September 2010: Ernesto and Rika from BA and Kobe, Japan
November 2010: Pablo and Noelia from BA
March 2011: Maria and Mazem from Paris
Moreover we are now entitled to organize milongas al fesco on the Lakes and plan to do so on several week-ends starting in April, weather permitting.