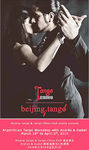 They are coming in 2 weeks! Time to register for group and private classes. Class-passes are on sale at our regular milongas on Thurdays and Sundays.
Dowload the full schedule here: Schedule
Please note that all private classes are to be booked and paid to the organizers. Price is 600RMB/hour for members and 800RMB for non-members. For registration please email beijing.tango@yahoo.com or call Stefanie at 130 2195 8870.
Please check the 'privates schedule' which is up-dated daily before making a reservation. Time slot marked "Closed" are already taken, please choose among the "OPEN" slots.
REMINDER: all the regular classes (Michael' class on Thurday as well as TT's class on Sunday) are cancelled during the workshop; they will resume from April 7th).