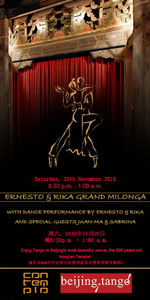 We are organizing a Grand Milonga in honor of Ernesto and Rika. Join us on Saturday, Nov. 20th, at the beautiful Hong'en Temple.

Ernesto & Rika will perform Tango Salon and Tango Show pieces. Special guest Juan-Manuel Rosalès and Sabrina Garcia, a young dance couple from Buenos Aires who currently teaches tango in Beijing, will perform as well. 2 professional couples dancing together: a first in Beijing!

Tickets are 120RMB (including one soft drink or mulled wine) and can be bought at all the regular milongas of SinoChu, Hidden Dream and Tango Chino. Reservation can also be made via Daisy (136 6134 7015) or beijing.tango@yahoo.com.

Don't miss it!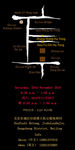 Address: Dufuchi Hutong, Off JianGulou Dajie, Dongcheng District.
For those of you who have been at the Temple already, please note that we now have to enter through another hutong now (the one running parallel to the former one to the south). Click o nthe image to see a larger map.