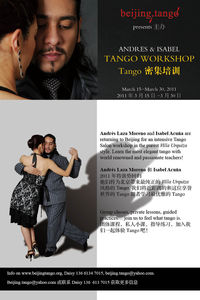 Andrés and Isabel came last year to Beijing and, for many tangueros, life has never been the same afterwards! We offer you again the opportunity to learn the very specific Villa Urquiza style, where connection between partners is of the utmost importance.
Learn how to walk with elegance, how to use pauses and change of energy, how to introduce complex figures into simple dance...
We recommand that everybody take the technique classes since we have to learn or to review this specific style to enjoy the sequences and steps classes.
To know everything about prices, venues, and class content, download the printable Andres_and_Isabel_2011_workshop_schedule. Pre-registration is highly recommanded.
Private classes
Andrés and Isabel will give more than 50 private classes. Privates will be sought after, so please make your booking as soon as possible if you want to secure specific time slots. Schedule and info here.

Who they are
Andrés Laza Moreno, known as El Bichi, began dancing when he was 14 years old. Despite his young age, his knowledge of Tango runs deep. His maestros included the late Carlos Gavito as well as Jorge Dispari, for whom he was the teaching assistant for a long period of time. Andres was also part of a special program started by the Argentinean Secretary of Culture to preserve the culture of Argentine Tango, being one of the few dancers selected by a committee to learn Tango for a year from some of the most outstanding Milongueros alive at that time. He was the dance partner of Samantha Dispari, daughter of Jorge and Maria Dispari, and gave classes in Buenos Aires and Europe before forming a new dance couple with his life partner, Isabel in 2009.

Isabel Acuna was born in Chile and began dancing in 1999, learning from the old generation masters at a local club there and shortly becoming one of their teaching assistants. At that time, milongas didn't exist in the neighborhood where she belonged. Her efforts in teaching in Chile and in promoting Argentine Tango to the young people there with a group of friends gave rise to a whole new generation of young tangueros, and she was considered one of the pioneers of the tango scene of Chile. Due to her love for Argentine Tango, she constantly travelled to BsAs to deepen her knowledge and feelings of the dance, and was invited to perform frequently in the milongas there. Her main teachers include Graciela Gonzalez, Geraldine Rojas, Javier Rodriguez and Andrea Missé. In 2008, she settled in BsAs and later started her partnership with Andrés.