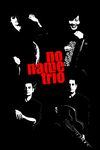 The No Name Trio will present a special 30-minute tango concert at the Temple Milonga. Two guitars, one bass and one accordion will play classical and modern tango especially rehearsed for this venue, as well as a couple of surprises !

Meet the 4 of the trio !

An international group, based in Beijing, China, specializing in swinging French sounds from long ago, the No Name Trio consists of Zoe Wang, China's foremost accordionist, Nico Torrese (guitar) from France, Daniel Brustman (guitar) from the USA and Sebastian Meyer (upright bass) from Germany. The group's repertoire is centered around the music of Django Reinhardt and the gypsy jazz he pioneered in 1930's Paris as well as more modern French and American standards.

Nico Torrese and Daniel Brustman met in 2004 in Beijing, China. They developed a unique style of playing gypsy jazz arranged for two guitars. Initially focusing on the music of gypsy legend Django Reinhardt, they gradually expanded their repertoire to include American jazz standards, blues and 1960's French pop.

Zoe Wang has played the accordion since she was four years old. She graduated from the Tianjin Conservatory of Music. Afterwards, she has periodically studied in France under the acclaimed accordionist Frederic Deschamps. She began playing with Torrese and Brustman in 2007.

Sebastian Meyer has graduated in jazz music and upright bass in Francfort University. His style, smooth and dynamic, brings very strong foundations to the music of No Name Trio. They play together since early 2009.

From November 2008, the No Name Trio has played more than 150 concerts for foreign embassies and consulates, Alliance Française, L'Association des Francophones de Pékin, and multi-national companies as well as countless bar and restaurant gigs. They have also participated in several large-scale music festivals in China, France, Vietnam and Hong-Kong.